How To Use
Choose a date, meeting point, number of people.

Make a payment. You can pay with all major international credit or debit card and Paypal.

Check your email voucher (spam box, too)

Meet the tour staff and show your email voucher. 
---
 How to Pay
In TripToday website, you can pay with all major international credit or debit card and Paypal.
Bank transfer in Korean Won (KRW) / Credit or debit card issued in Korea -> Please send email to us. (bnbhero@bnbhero.com)
---
 Feature
---
 Include 
Transportation

Taejongdae Danubi train ticket

English speaking staff
 Not include 
Itinerary
| | |
| --- | --- |
| | |
| 8:20am | Depart from KTX Busan Station Exit 1 |
| 8:40am | Depart from Seomyeon Station Exit 12 |
| 9:20am | Depart from Haeundae Station Exit 5 |
| 9:50am | Arrive at Haedong Yonggungsa Temple |
| 10:50am | Leave for Taejongdae |
| 11:30am | Arrive at Taejongdae (Lunch Time) |
| 2:20pm | Leave for Songdo Skywalk |
| 2:40pm | Arrive at Songdo Skywalk |
| 3:40pm | Leave for Gamcheon Culture Village |
| 4:00pm | Arrive at Gamcheon Culture Village |
| 5:10pm | Leave for Busan Station |
| 5:30pm | Arrive at Busan Station |
| 6:10pm | Arrive at Seomyeon Station |
| 7:00pm | Arrive at Haeundae Station |
---
Things to note
This schedule is for reference only and is subject to traffic conditions of the day.

Follow the staff's instruction and meet back at each designated time. The bus leaves strictly on time and will not wait for you.

Danubi Train does not operate on rainy day. Taejongdae can be substituted by other location in that case.

Infant (0-35months) is free of charge only when they do not occupy their own seat on the shuttle bus. Please inform us after booking if you have infants. You should bring infant's passport for free entrance ticket.
Late / Bad weather
Being late or not showing up at the Meeting Point at Meeting Time is considered cancellation and NO REFUND is granted.

Tour operates per normal even if it rains or snows.
Cancellation policy
3 days(by 4pm KST) before the tour date: 100% refund

2 days(by 4pm KST) before the tour date: Non-refundable
---
Overview
Visiting Busan for the first time?
Want to take in some of the most popular sights, but not sure where to start?
Check out our amazing one day shuttle tours!
Combining a variation of four of the most popular destinations, ranging from the infamous Busan Gamcheon Culture Village, to market places, temples and skywalks, everything is covered except for souvenirs and meals!
Taejongdae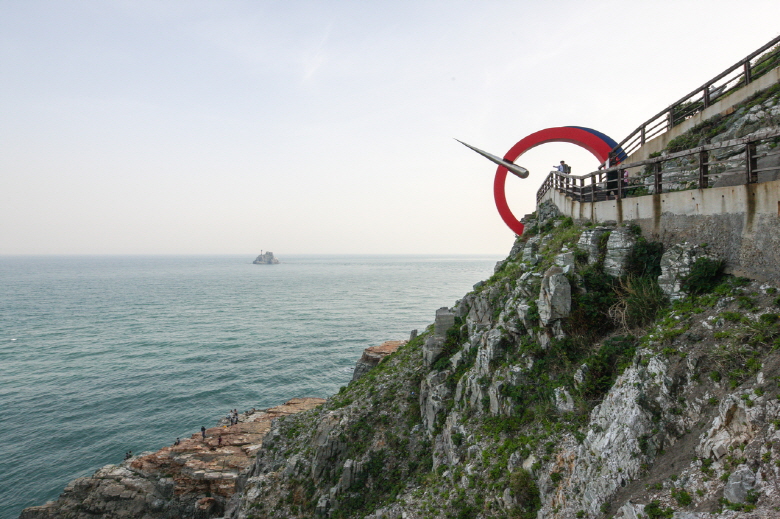 Designated as a Busan monument, along with Oryukdo Island, Taejongdae represents Busan, and is especially famous for its rock beach. Featuring its highest peak at 250 meters, there are forests of pine trees and 200 other varieties of trees.
Gamcheon Culture Village
Gamcheon Culture Villiage is formed by houses built in staircase-fashion on the foothills of a coastal mountain, earning this village the nickname of "Machu Picchu of Busan." The many alleys cutting through this community are vibrantly decorated with murals and sculptures created by the residents.
Songdo Skywalk
Songdo Beach Skywalk, formally opened as the Korea's longest and curved sea overpath in June 2015, was equipped with of 104-meter-length (from seashore island to the lighthouse) and 2.3- meter-width that was made with special steel plate and wood. The bridge was 5.5~6-meters-high above sea level. Visitors are able to see the color of the ocean while the wave rolling under their feet through the floor which made of tempered glass double-reinforced, included strong railing. So this is the place for visitors can securely revel in the sounds of churning waves and an expansive ocean view.
Haedongyonggungsa Temple
Haedong Yonggungsa Temple is situated on the coast of the north-eastern portion of Busan. This superb attraction offers visitors the rare find of a temple along the shore line; most temples in Korea are located in the mountains.