How To Use
Choose a date, meeting point, number of people.

Make a payment. You can pay with all major international credit or debit card and Paypal.

Check your email voucher (spam box, too)

Meet the tour staff and show your email voucher.
---
 How to Pay
In TripToday website, you can pay with all major international credit or debit card and Paypal.
Bank transfer in Korean Won (KRW) / Credit or debit card issued in Korea -> Please send email to us. (bnbhero@bnbhero.com)
---
 Feature
---
 Include 
Transportation
English speaking staff
Tongyeong Cable car ticket
---
 Not include 
Itinerary
| | |
| --- | --- |
| Time | Activity |
| 8:20am | Depart from KTX Busan Station Exit 1 |
| 8:40am | Depart from Seomyeon Station Exit 12 |
| 9:20am | Depart from Haeundae Station Exit 5 |
| 11:40am | Arrive at Tongyeong Jungang Market and Dongpirang Village (Lunch time) |
| 1:10pm | Depart from Tongyeong Jungang Market and Dongpirang Village |
| 1:25~5:40pm | Enjoy Tongyeong Cable car (and Luge) |
| 5:40pm | Leave for Busan |
| 7:40pm | Arrive at Haeundae Station |
| 8:10pm | Arrive at Seomyeon Station |
| 8:30pm | Arrive at Busan Station |
Things to note
This schedule is for reference only and is subject to traffic conditions of the day.

Follow the staff's instruction and meet back at each designated time. The bus leaves strictly on time and will not wait for you.

If you want to ride a Luge, please select Cable car+Luge option. (add KRW 18,000)

Infant (0-35months) is free of charge only when they do not occupy their own seat on the shuttle bus. Please inform us after booking if you have infants. You should bring infant's passport for free entrance ticket.
---
Late / Bad weather
Being late or not showing up at the Meeting Point at Meeting Time is considered cancellation and NO REFUND is granted.

Tour operates per normal even if it rains or snows.
Cancellation policy
3 days(by 4pm KST) before the tour date: 100% refund

2 days(by 4pm KST) before the tour date: Non-refundable
---
Overview
Tongyeong Jungang Market 
With almost 400 years of history, Tongyeong Jungang Market is a popular tourist spot in the city of Tongyeong, attracting tourists during weekends and even on weekdays.
The market is located next to Dongpirang Village. In front of the market is Gangguan Port where a turtle ship (geobukseon) and fishing boats are docked. The spacious cultural venue called Munhwa Madang is quite reminiscent of Byeongseon Madang, a place for anchoring or mooring warships in the past.
As the market is located close to the coastline, fresh fish and dried fish make up a huge part of the market's offerings. Here, visitors can also find mother-of-pearl inlaid wares, quilted products, and rice cakes.
Dongpirang Village 
The word "Dongpirang" is made of two words. One is "Dong", meaning east and the other is "Birang", meaning hill in a Tongyeong dialect. Tongyeong Agenda 21 which is an association in Tongyeong gathered people throughout the nation in order to paint murals on the walls of Dongpirang-gil Street in October 2007. Thanks to the participants' paintings, this hillside village on the sea became a new place, revitalized by the art. The view overlooking sea of Gangguan Port is fantastic as well.
Tongyeong Cable car
Located on Mireuksan Mountain, one of Korea's top 100 mountains, Hallyeosudo Viewing Ropeway is the only dual-cable automatic circulating gondola system in Korea. At 1,975 meters long, it is the longest tourist ropeway in the nation. The ropeway is made up of 47 gondolas and one freight unit. Traveling at an average of 4m/sec, it takes approximately 9 minutes to reach the summit station from the ground station.
Luge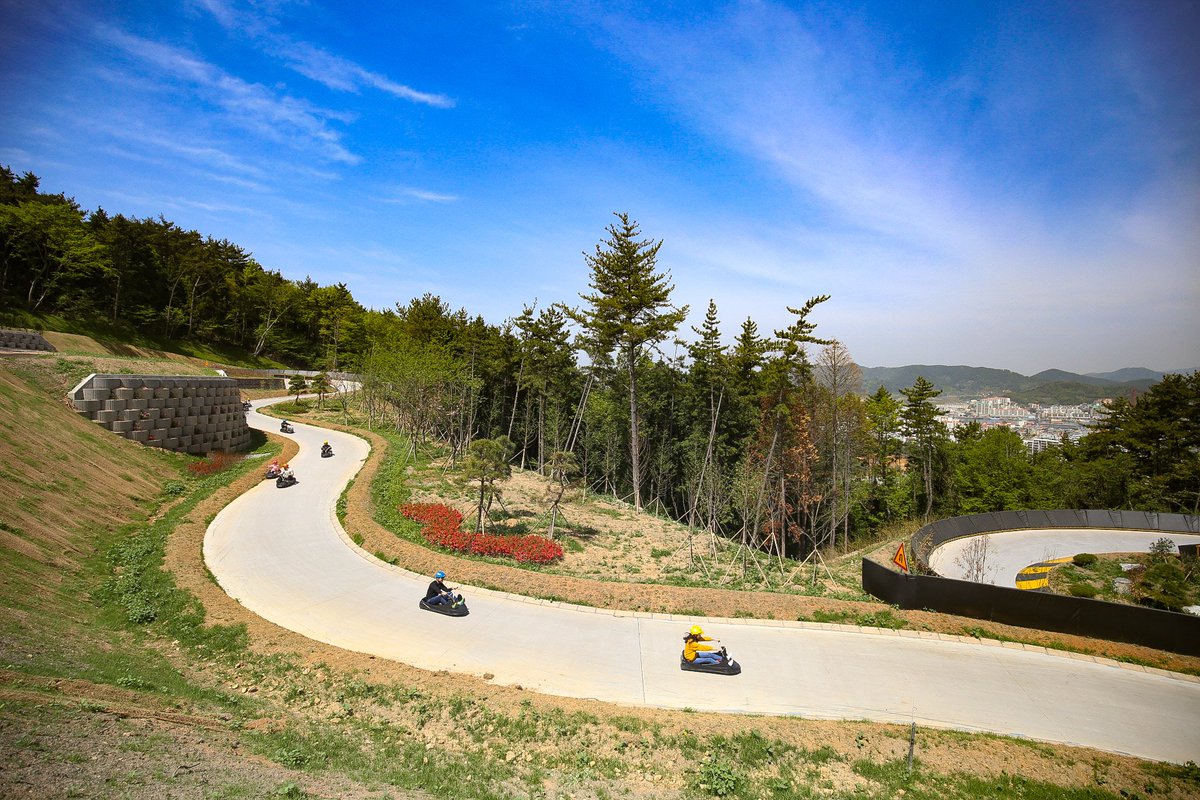 One of the world's most thrilling adventure activities has arrived in Tongyeong!
The Skyline Luge is a unique wheeled-gravity ride that provides riders full control over their descent on a purpose built 1.5km Luge track. The only attraction of its kind in South Korea, Skyline Luge offers a fun-filled outdoor experience that is suitable for riders of all ages and experience levels.