How To Use
Choose a date, meeting point, number of people.

Make a payment. You can pay with all major international credit or debit card and Paypal.

Check your email voucher (spam box, too)

Meet the tour staff and show your email voucher.
---
 How to Pay

In TripToday website, you can pay with all major international credit or debit card and Paypal.
Bank transfer in Korean Won (KRW) / Credit or debit card issued in Korea -> Please send email to us. (bnbhero@bnbhero.com)
---
 Feature
---
 Include 
Transportation

English speaking staff    

Entrance fee
---
 Not include 
---
 Itinerary
| | |
| --- | --- |
| | |
| 7:20am | Depart from Nampo Station Exit 5 |
| 7:40am | Depart from KTX Busan Station Exit 1 |
| 8:00am | Depart from Seomyeon Station Exit 12 |
| 11:30am | Arrive at Hyangiram |
| 11:30~1:30pm | Hyangiram |
| 1:30pm | Leave for Yeosu Maritime Cable Car |
| 2:00pm | Arrive at Yeosu Maritime Cable Car |
| 3:00pm | Leave for Yeosu Ocean Railbike |
| 3:20pm | Arrive at Yeosu Ocean Railbike |
| 4:20pm | Leave for Busan |
| 8:00pm | Arrive at Seomyeon Station |
| 8:20pm | Arrive at KTX Busan Station |
| 8:40pm | Arrive at Nampo Station |
---
Things to note
This schedule is for reference only and is subject to traffic conditions of the day.

Follow the staff's instruction and meet back at each designated time. The bus leaves strictly on time and will not wait for you.

Infant (0-35months) is free of charge only when they do not occupy their own seat on the shuttle bus. Please inform us after booking if you have infants. You should bring infant's passport for free entrance ticket.
---
Late / Bad weather
Being late or not showing up at the Meeting Point at Meeting Time is considered cancellation and NO REFUND is granted.

Tour operates per normal even if it rains or snows.
---
Overview
Hyangiram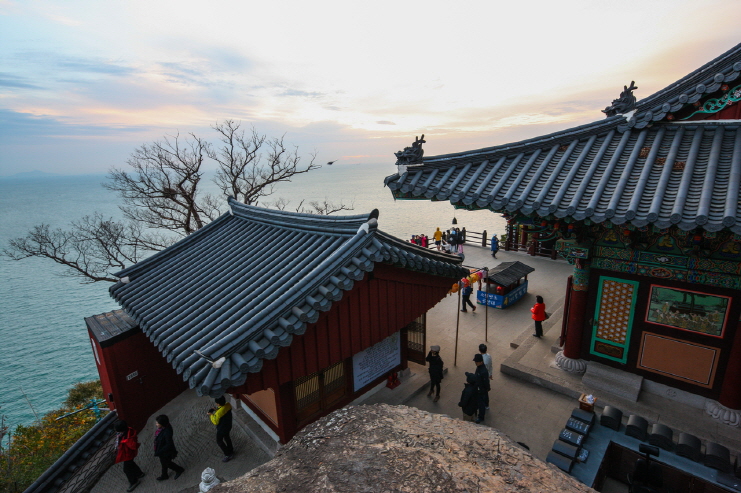 Hyangiram (Cultural Property Material No. 40) is one of four Buddhist hermitages in Korea where the faithful come to pray. Hyangiram was a base camp for Buddhist monks who helped Admiral Yi Sun-sin fight the war during the Japanese invasion. The temple contains Daeungjeon, Gwaneumjeon, Chilseonggak, Dokseodang, and Chwiseongru, all of which are well preserved. Camellias and subtropical plants surround the Bawibong Peak and Geumosan Mountain. The mountain path to Hyangiram is very steep and it is one of the exciting mountain courses of Korea. To reach the temple, you will need to climb the rock at the midpoint of the trail and pass the stone gate, situated between two large rocks near the temple.
Yeosu Maritime Cable Car
Yeosu Maritime Cable Car is the first of its kind in Korea, connecting Dolsan Island and the mainland over the ocean. Passengers can choose between the standard cabins and crystal cabins. In particular, crystal cabins allow passengers to observe the ocean below ones feet, experiencing the thrill of being suspended in mid-air through its transparent flooring.
 Yeosu Ocean Railbike
Yeosu Ocean Railbike is comprised of a 3.5 kilometer-long open track that follows the rocky coast of Yeosu. Passing through the open air as well as a tunnel section, it is a unique and exciting experience anyone can enjoy at a leisurely pace. The track and rail bikes undergo regular safety inspections, meaning it's a completely safe way to enjoy Yeosu's beautiful coast.